Additional Links
---
A Link in here..
A link to whatever we
decide to put





A link to somewhere
..maybe a sponsor
or something.

WRVS History..
The History of
the WRVS etc.


We NEED You..
Whatever we want
for more links




An External link..
Lets go to
wherever....
An hour or two from your week......
could transform someone else's. A minute or two from your day could make theirs.

Members of the Womens Royal Voluntary Service are looking for more people to join them in providing practical care and meeting needs in their local communities.


---

Mary has no visitors in hospital. Janet a WRVS member, takes time from the tea bar they run to provide a hairdressing service to patients.

Mary: "It really gives me a lift, and we have a good chin wag while she's doing my hair."
Janet: "It gives me a lift too. I had to give up work and this gives me a chance to achieve. Mary's good company - its fun."


---


To look at John and Rangela you'd think she was the WRVS member.

John: "Actually, I look after her three year old once a week at the Family Centre. My grandchildren live miles away so I enjoy keeping the kids in order. In turn they keep me on my toes."
Rangela: "I can get out of the B&B now. The WRVS members have transformed my life."


---
Local community projects, local hospital projects and local emergency service teams, together with the public and private sector, are committed to being the premier providers of care to people in need. From meals on wheels to a family centre for single mums, when the community benefits so do we.

The only skills you need are to be good with people, to care about the people and to enjoy practical teamwork. you certainly don't have to be a woman! In return we'll offer you training, a supportive network, flexibility and some really good times.

---

P aul, Gill and James Scott are all trained in emergency services support with WRVS.

Paul: "During the terrible floods our team worked a 24 hour rota to provide food and dry clothes to the Fire Brigade and the victims. It was good to work together as a family and James has learned some great skills."


---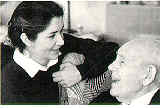 Peter does not eat meat.

Peter: "I was worried when I went on meals on wheels I would have to put up or shut up and eat what they wanted."
Joy: "Of course not! My weekly round caters for diabetics and vegetarians."
Peter: "Joy thinks I don't notice her having a quick look round to check all's OK when she drops the meals off. Its good to know she cares though. Without the meals I'd have to move out of my home."


---
We need volunteers.




Perhaps Volunteering would
make your day too?